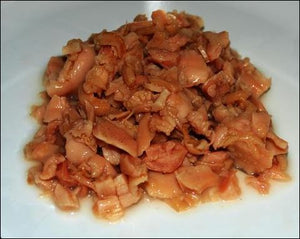 SYSCO Classic Ocean Clams, Chopped Fancy, No MSG 12/51 oz
SYSCO Classic Ocean Clams, Chopped Fancy, No MSG 12/51 oz
Case Weight: 44.1 lbs
Case Cube: 1.0 cu ft
Shelf Life:2 years
Pallet Qty:
No Monosodium Glutamate
Chopped Ocean Clams are a product made from the ocean Quahog Clam (Artica Islandica). The ocean clam has long been considered to be the workhorse of the clam chowder world because of its robust flavor. The ocean clam is also a terrific low-fat and low-cholesterol source of protein.
Fully cooked, ready to use and packed in 100% clam juice