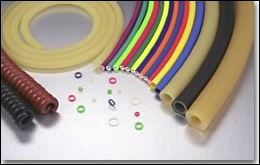 Amber Latex Tubing 1/8"ID x 1/16"Wall 1/100ft box
Amber Latex Tubing 1/8"ID x 1/16"Wall 1/100ft box
Natural Rubber 
Latex Tubing
Colors
In addition to natural amber or black, virtually any color can be matched (including fluorescent) to meet your specification.
Lengths
To help serve our customers wide range 
of size and length requirements, a custom
cutting process allows tubing to be cut in
lengths as small as 1/16" and all the way
up to 50 or 100 foot lengths.
Sizes
Our customers can choose from over 200 sizes, ranging from 1/32" to 1" I.D. and wall thicknesses from .010" up to .250" (1/4").
Packaging
Reel Pack – handy dispensing reel containing

 


50 ft. of tubing
Box Pack – sturdy, flip-top box holds 50 or

 


100 ft. of tubing depending on size
Bulk Pack – large shipping box containing

 


random lengths of tubing depending upon

 


size and quantity ordered
Performance Characteristics
Elasticity – memory is maintained even after repeated stretching

Smoothness – unique dipping process eliminates die lines and seams, allowing smooth I.D. and O.D. surfaces

Sterilization – compatible with steam, ETO or gamma radiation

Translucency and uniformity of color – provides an unobstructed observation of liquid flow line

Gripping Power – enables the tubing to grip tenaciously to connectors
Latex Sensitivity 
All products are extensively leached, washed and surface treated to minimize protein levels – 99% protein-free. Where latex products are not recommended or are prohibited, we offer a complete line of non-latex tubing manufactured from thermoplastic elastomers which closely simulate natural rubber latex properties.
The technical information supplied consists of typical product data and should not be used for specification purposes. Unless otherwise noted, all tests are performed at room temperature. The potential user must perform any pertinent tests to determine the product's performance and suitability in the intended application. Final determination of fitness of the product is the responsibility of the buyer.
Popular Tubing Sizes
I.D. X WALL
(mm)

I.D. X WALL
(inches)

I.D. X WALL X O.D.
(inches)

1.6 x .8
1/16 x 1/32
.063 x .031 x .125
1.6 x 1.6
1/16 x 1/16
.063 x .063 x .188
2.4 x .8
3/32 x 1/32
.094 x .031 x .156
2.4 x 1.2
3/32 x 3/64
.094 x .047 x .188
2.4 x 1.6
3/32 x 1/16
.094 x .063 x .219
3.2 x. 8
1/8 x 1/32
.125 x .031 x .188
3.2 x 1.2
1/8 x 3/64
.125 x .047 x .219
3.2 x 1.6
1/8 x 1/16
.125 x .063 x .250
3.2 x 2.4
1/8 x 3/32
.125 x .094 x .313
3.2 x 3.2
1/8 x 1/8
.125 x .125 x .375
3.2 x 4.0
1/8 x 5/32
.125 x .156 x .438
3.2 x 4.8
1/8 x 3/16
.125 x .188 x .500
3.2 x 5.6
1/8 x 7/32
.125 x .219 x .563
3.2 x 6.4
1/8 x 1/4
.125 x .250 x .625
3.2 x 7.9
1/8 x 5/16
.125 x .313 x .750
4.0 x .8
5/32 x 1/32
.156 x .031 x .219
4.0 x 1.2
5/32 x 3/64
.156 x .047 x .250
4.0 x 1.6
5/32 x 1/16
.156 x .063 x .281
4.0 x 2.0
5/32 x 5/64
.156 x .078 x .313
4.0 x 2.4
5/32 x 3/32
.156 x .094 x .344
4.8 x .8
3/16 x 1/32
.188 x .031 x .250
4.8 x 1.2
3/16 x 3/64
.188 x .047 x .281
4.8 x 1.6
3/16 x 1/16
.188 x .063 x .313
4.8 x 2.0
3/16 x 5/64
.188 x .078 x .344
4.8 x 2.4
3/16 x 3/32
.188 x .094 x .375
4.8 x 3.2
3/16 x 1/8
.188 x .125 x .438
4.8 x 4.8
3/16 x 3/16
.188 x .188 x .563
6.4 x .8
1/4 x 1/32
.250 x .031 x .313
6.4 x 1.2
1/4 x 3/64
.250 x .047 x .344
6.4 x 1.6
1/4 x 1/16
.250 x .063 x .375
6.4 x 2.4
1/4 x 3/32
.250 x .094 x .438
6.4 x 3.2
1/4 x 1/8
.250 x .125 x .500
6.4 x 4.8
1/4 x 3/16
.250 x .188 x .625
7.1 x 1.6
9/32 x 1/16
.281 x .063 x .407
7.1 x 2.0
9/32 x 5/64
.281 x .078 x .438
7.1 x 2.4
9/32 x 3/32
.281 x .094 x .469
7.9 x .8
5/16 x 1/32
.313 x .031 x .375
7.9 x 1.2
5/16 x 3/64
.313 x .047 x .407
7.9 x 1.6
5/16 x 1/16
.313 x .063 x .438
7.9 x 2.0
5/16 x 5/64
.313 x .078 x .469
7.9 x 2.4
5/16 x 3/32
.313 x .094 x .500
7.9 x 3.2
5/16 x 1/8
.313 x .125 x .563
7.9 x 4.0
5/16 x 5/32
.313 x .156 x .625
7.9 x 4.8
5/16 x 3/16
.313 x .188 x .689
9.5 x .8
3/8 x 1/32
.375 x .031 x .438
9.5 x 1.2
3/8 x 3/64
.375 x .047 x .469
9.5 x 1.6
3/8 x 1/16
.375 x .063 x .500
9.5 x 2.4
3/8 x 3/32
.375 x .094 x .563
9.5 x 3.2
3/8 x 1/8
.375 x .125 x .625
12.7 x 1.6
1/2 x 1/16
.500 x .063 x .625
12.7 x 2.4
1/2 x 3/32
.500 x .094 x .689
12.7 x 3.2
1/2 x 1/8
.500 x .125 x .750
12.7 x 6.4
1/2 x 1/4
.500 x .250 x 1.00
15.9 x 1.6
5/8 x 1/16
.625 x .063 x .750
15.9 x 3.2
5/8 x 1/8
.625 x .125 x .875
19.1 x 3.2
3/4 x 1/8
.750 x .125 x 1.00
25.4 x 3.2
1 x 1/8
1.0 x .125 x 1.250