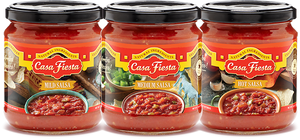 CASA FIESTA Mild Salsa 6/16 oz
CASA FIESTA Mild Salsa 6/16 oz
Case Weight: 7.5 lbs
Case Cube: 0.185 cu ft

It makes sense that our perfectly chunky salsas and dips taste garden fresh: 24 hours ago, their ingredients were still in the garden. Vegetables like sun-ripened tomatoes, onions and peppers are handpicked and processed within 24 hours, so only the freshest flavors make it to your table. Whether you're dipping in, topping off or even using our salsas on salads, every bite is muy delicioso.
Available in MILD, MEDIUM or HOT.