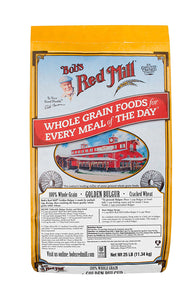 BOB'S Red Mill Golden Bulgur 1/25 Lb
BOB'S Red Mill Golden Bulgur 1/25 Lb
Case Weight: 25.5 lbs per bag
Case Cube: 0.cu ft 
Shelf Life:  please inquire
Pallet Qty:  please inquire
One, 25 pound bulk bag

Bulgur is a quick-cooking whole grain that is a terrific addition to a variety of dishes. Our Golden Bulgur is made from kernels of soft white wheat that have been cracked into small pieces and then parcooked. It is a must-have ingredient for the traditional Middle Eastern salad known as tabboubleh.

Vegan; Vegetarian; 100% Whole Grain; High in Fiber; Kosher Par eve

100% Whole grain

Easy to prepare and ready in only 12 minutes

Excellent source of fiber and 5g protein per serving

A staple in Middle Eastern and Mediterranean regions, Bulgur, also known as ala, is a wonderful and versatile ingredient for breakfast, lunch or dinner. Made from whole grain soft white wheat that has been parboiled, dried and cracked, our medium grind (#2) bulgur is quick to prepare and can be reconstituted with hot water in a matter of minutes. A common ingredient in Tabbouleh, bulgur is a wonderful base for salads and pilafs. Use it to add crunch to breads and muffins or try it cooked as a hot cereal. Mix bulgur into meatballs and meat loaf to bring whole grain nutrition to your table. The nutty flavor of bulgur makes is perfect for savory dishes and breads. Bulgur is an ideal substitute for nutritionally deplete sides, such as potatoes, pasta and stuffing. Browse our selection of recipes for inspiring ways to serve bulgur. Bulgur is so easy to prepare, you will wish you tried it sooner. Like many whole grains, bulgur is a nutritional powerhouse. With a healthy balance of fat, fiber and protein, bulgur is great for those following Weight Watchers and anyone trying to be more conscious of what they eat.