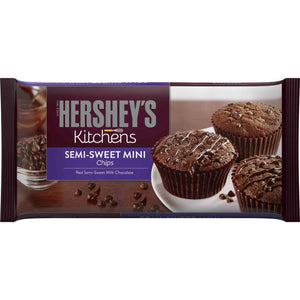 HERSHEY'S Mini Chocolate Chips 12/12 oz
HERSHEY'S Mini Chocolate Chips 12/12 oz
Case Weight: 9.6 lbs
Case Cube: 0.30 cu ft
Shelf Life: 
Pallet Qty:
Product Info:
There are so many different and delicious ways to enjoy HERSHEY'S Semi-Sweet Chocolate Mini Baking Chips. Enjoy them in cookies, brownies, muffins and pancakes. These small chocolate chips are big on tastes. These mini-chips can also be melted down to create decadent glazes, coatings and drizzles. Order your 12-ounce bag today.