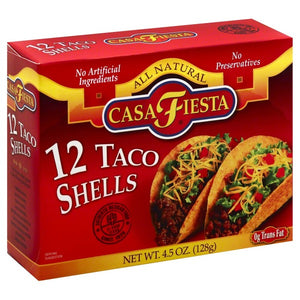 CASA FIESTA Taco Shells 12-ct 12/4.5 oz
CASA FIESTA Taco Shells 12-ct 12/4.5 oz
Case Weight: 5.8 lbs
Case Cube: 0.76 cu ft
Shelf Life:  2 years
Pallet Qty: 90
Casa fiesta shells are double-wrapped to ensure maximum freshness and crispiness in each bite

A quick five minutes in the oven at 350°f prior to serving makes for perfect crispiness

Casa fiesta has been making authentic mexican foods in El Paso, Texas since 1931.

What`s in the box? 12 boxes each containing 12 shells. That`s a total of 144 shells.